How Helene Stopped Drinking & Started Living Her Best Life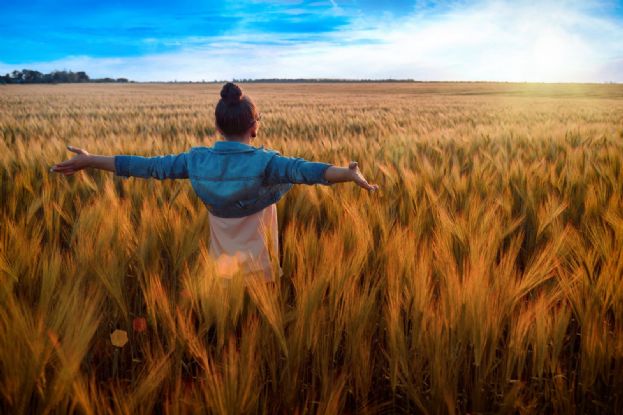 For most people, losing weight and embracing a healthier lifestyle is all about the right combination of food and fitness: more leans and greens, fewer chips and cookies; more sweating, less sitting. But for others, getting healthy means more than mastering the right calories in/calories out equation. For Hélène, it meant breaking a dependence on a substance she had come to rely on emotionally but wasn't doing her any favors physically.

Based in Ottawa, Canada, 51-year-old Hélène (BEFITSPIRITED) joined SparkPeople for the first time 10 years ago, drawn to the site for the same reason as most members: to lose weight. Over the last decade, she lost and gained 100 pounds, and found herself stuck in a frustrating cycle of yo-yo dieting. Ultimately, Hélène came to the realization that behind the extra weight were deeper issues that she had to work through before worrying about what the scale had to say.

Facing a Dependence on Drinking

Hélène was just 12 years old when she snuck her first drink of alcohol from her mother's liquor bottle. After that, she continued with what she described as "regular drinking" through high school and college, including some binge drinking.

The issue became more prominent when her then-husband was working out of town for weeks at a time, and Hélène was at home suffering from postpartum depression. As she eventually divorced, filed for bankruptcy and struggled with depression and anxiety, the drinking became even more of an emotional crutch.

"I found solace in daily drinking," Hélène recalls. "As I watched my health go downhill and my weight and blood pressure go up, I knew I had to make some changes."

In a way, she feels the extra weight—199.5 pounds, at her highest—also masked the pain. "I believe I used the weight kind of as a cushion to numb myself through so much pain and heartache," Hélène says.

Hélène began to recognize that alcohol was the barrier standing in her way of reaching her health goals. "I would do great during the week, and then on weekends I would let things slide and would regain all the weight I had lost," she says. After seeing her own sister's health decline, leading to her death at the young age of 50, Hélène knew it was time to banish the bottle for good.

She sought help through regular therapy. "While my drinking levels were not considered moderate, I did not have to be medically supervised or have to taper in any way," she says. "I just had to make the decision to stop the habit."

After Hélène's own 50th birthday, she challenged herself to cut out alcohol completely. It originally started as a 50-day challenge, then extended to 100 days. "After the 100 days, I felt so much better," she says. "I had more peace, clarity and freedom."

But then, after having a few drinks during a Hawaii vacation, Hélène had a relapse, continuing to drink until she'd regained all of the weight she had lost.

This year, for her 51st birthday, Hélène wanted more of those positive feelings that came with her alcohol-free stretch and committed to a full year of sobriety. Now, nearing the halfway mark, she recognizes it as the best decision she could have made for her well-being.

This Is Hélène Off Alcohol

Although she knew giving up drinking would be good for her health, Hélène was pleasantly surprised by the long list of additional benefits that came with abandoning alcohol.

The most obvious and desirable result was the weight loss: Hélène has shed 22-1/2 pounds and 21 inches. A big reason for this is that she has more time and energy to work out: "Without the booze, there's space for me to do so much more," she says.

She's also seen a spike in her productivity and a renewed interest in activities. "Instead of being a couch potato, watching other people's stories or drama on TV, I am investing my time in much healthier activities, and even re-visiting things I used to love to do—like crafts, painting and reading," she says. "I'm no longer procrastinating doing tasks. I'm clearing out the clutter, making space for the new stuff to come in—more joy and more peace."

Hélène is also enjoying a clearer mind and a sharper focus. "I have more clarity about everything—there's no brain fog, no hangovers or wasted days," she says.

Her emotional health has also improved. Without drinking to contend with, Hélène has no more lingering guilt, is better able to deal with stress and feels more confident in her decisions. "I'm no longer trying to hide from myself, my emotions or my problems," she says. "Instead of numbing myself, I'm giving myself permission to recognize what I was feeling and working to find solutions."

As an added perk, Hélène finds herself with some spare cash. During her challenge, she used an app called Sober Time, which helped her monitor her progress and results. According to the app, she's saved around $1,000 on what she would have been spending on alcohol.

Plus, she has more freedom to do what she wants to do. "When you are having drinks, your plans seem to revolve around 'if I do this, then I can't do that,'" she remembers. "Now, I have freedom! I can spontaneously pick up and drive off anywhere."

Sparking Her Way to Success

Throughout her journey, Hélène found support and motivation on SparkPeople, where she blogged regularly and also led a SparkTeam called Cutting Down the Booze. The team is comprised of others like Hélène, who are trying to either cut out or cut back their alcohol consumption to ensure they are drinking safely at levels that encourage progress toward their health goals.

"It's a place for people who understand the struggles that can come with trying to lose weight while allowing this widely acceptable—and sometimes even expected—social activity," Hélène says. "Many don't like to speak about their alcohol use in a public way, so the group is a great way to share among others who really 'get it.'"

Hélène has also found SparkBlogs to be a helpful resource. "Blogging is a great tool to journal your thoughts and progress through the journey, and helps you see how far you have come when you might be feeling discouraged."

At first, Hélène's focus was on cutting out alcohol, but now that she's learned to function well—thrive, even—without it, she's shifting her focus to correcting her emotional eating. "Often when you cut out alcohol, if it's been a regular part of your [routine], you will initially start to crave sugar badly," she says. "For the first part of the alcohol-free challenge, I allowed myself some treats because my main goal was to not drink. Now that I'm nearing the five-month mark, I've been working on cutting out the treats and sugar fixes."

That means being more mindful of her food and snack choices, and using SparkPeople's food tracker to monitor her habits and become more aware of what changes are needed.

"SparkPeople has so many great tools that you can tap into," Hélène says. "Depending on your goals or challenges, seek out help from the community and join a team. The tracking tools and reports are amazing, and I also love many of their articles. I would advise anyone starting out to log in daily. The most successful tools for greater health are accountability and community support. You don't have to do this alone—SparkPeople can help you get there!"




You will earn

5

SparkPoints

Like what you read? Learn more

about SparkPeople,

or

sign up

for your free account today!
Got a story idea? Give us a shout!